So what is a dropper post? In a nutshell, it's a seat post for a bicycle that goes up and down. Simple.
This innovative seat post design has certainly changed the industry and these days is pretty commonplace.
Dropper Seat Post
Basically a dropper seat post is a replacement for a standard bicycle seat post. This type of bike seat post has the added bonus of being adjustable while you are still sitting on your bike.
Gone are the days of having to get off and manually adjust the seat post for different riding conditions. You can even adjust it while you are riding!
---
Stickers Decals Graphics is an Amazon Associate, and earns from qualifying purchases by advertising and linking to Amazon, at no extra cost to you.
---
How Does A Dropper Seat Post Work
A dropper post allows you to adjust the height of your saddle, up or down, with the quick and simple push of a thumb lever situated on your handlebars. It literally only takes seconds to adjust a dropper seat post and can be done while you are riding.
This makes a significant difference to your ride, in that you no longer have to get off your bike to adjust the sadlle height. Genius!
There are different types of dropper seat posts, some are wireless electric and some work with cables. Cable seat posts have a cable attached to a thumb lever on your handlebars.
Others work off hydraulic fluid which are also operated by a thumb lever on your handlebars.
Older generation bikes have the cable running externally, because these bikes did not have an internal cable routing system. A good example of an external cable routed dropper post is the Rockshox Reverb
Newer generation bikes have internal cable routing. This means the cables are housed inside the bike frame for a smoother, cleaner look on your bike.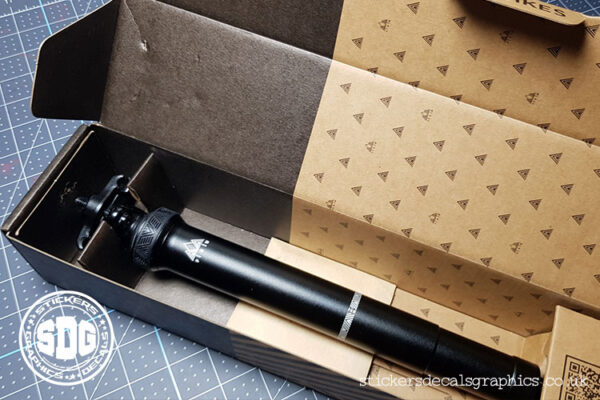 This is a better design (in our opinion) as opposed to having lots of cables attached to the exterior of the frame. When you have cables on the outside of a bike frame, this contributes to a greater probability the cables get damaged and caught on things.
Watch This Video Comparison – OneUp Dropper vs PNW Rainier
See the OneUp Dropper Post here (UK)
See the PNW Rainier here (US)
Recent Posts